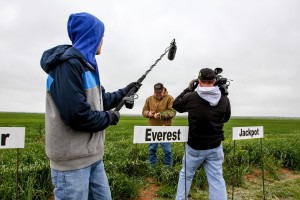 We had a productive day today shooting video at a field day event just outside of Sentinel, OK. A wheat field day is when wheat farmers gather at a wheat variety test plot to check on the condition of varieties being tested by the Oklahoma State University Division of Agricultural Sciences and Natural Resources. The research OSU provides is aimed at ensuring the future of Oklahoma wheat.
Specific areas of research include: Wheat breeding and genetics; end-use quality; production techniques; non-food uses for wheat; nutrition education of consumers; and utilization of wheat flours.
Many of the concerns farmers had today at the field day is the condition of the wheat after a couple of freezing conditions. With another night of 25 – 30 degree temps coming there is some concern that the wheat may be damaged and not produce a crop.
In spite of the very cold temps and windy conditions we survived the day and enjoyed getting to know more about the wheat conditions in this part of Oklahoma.
A special thanks to Mike Schulte from the OK Wheat Commission to arrange for us to attend and shoot footage at the field day.
We ended the day back at the home base of the Misener Family Harvesters where we shot some footage of Dan and Emma inspecting a combine. We were joined by Dave from SunUpTV, who shot interviews with Conrad and Dan for an upcoming episode of the show. It will be aired some time later this month and available on online at http://sunup.okstate.edu/