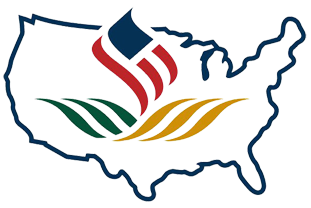 A Message from the President of the U.S. Custom Harvesters, Inc.
Hello! As president of U.S. Custom Harvesters, Inc., I want to thank you for your interest in "The Wheat Harvest Movie"! Nearly two years ago Conrad Weaver, President of ConjoStudios, LLC contacted me regarding his dream to produce a documentary following the annual wheat harvest. It's our goal as an organization to make this dream a reality!
U.S. Custom Harvesters, Inc. is the only voice in America representing and promoting the custom harvesting industry. Our membership consists of 370 individual custom harvesting businesses and 170 industry support businesses. The organization works for the members by providing a positive voice when rules and regulations need challenged or created in Washington, D.C. We work to enhance the relationship between the custom harvesters, their clients (the American producer), service providers to the industry, and to the general public.
The custom harvesting industry has been around for more than 60 years with its beginnings dating back to World War II. Custom harvesters provide a vital link between the producer's investment and the market. They provide the service of harvesting grain in a timely and efficient manner – sometimes trying to beat that storm cloud brewing on the horizon.
It's the desire of U.S. Custom Harvesters, Inc. to help the "The Wheat Harvest Movie" make a connection between the agricultural world and the American public. We feel if consumers were more aware of where their food comes from, they will protect this valuable resource rather than pushing it out of business. If Americans forget where food comes from and have to begin importing food due to the rules and regulations that are pushing Ag industries out of business, it will be too late. Education is a tremendous tool to gain knowledge and this documentary
project is such a tool!
I would like to encourage you to jump on board and support this important documentary! Currently there is an effort in the agriculture world to tell the story of food production from start to finish, so the timing for the "Wheat Harvest Movie" is perfect! Your contribution – whether large or small – will benefit this important story which NEEDS to be told. Please help us make this dream a reality!
Sincerely,
Tracy Zeorian, President
U.S. Custom Harvesters, Inc.