FOR IMMEDIATE RELEASE:
Harvest For Kids and Great American Wheat Harvest Documentary Film Executives Form Strategic Project Partnership at New World Record-Breaking Event
Frederick, MD – Sept. 27, 2012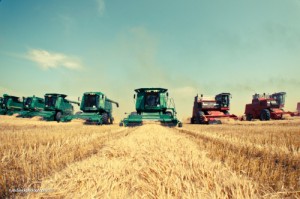 Harvest For Kids, a Canadian-based, nonprofit organization focused on creating sustainable community development programs that help bring hope to children in the developing world, and ConjoStudios, LLC., production company for the Great American Wheat Harvest documentary film, form a strategic project partnership in an effort to raise greater awareness to the production, harvesting and distribution of a common food supply between the two countries.
Executives for Harvest For Kids and national event coordinators for the Great American Wheat Harvest plan to officially announce the partnership near Saskatoon, SK, Oct. 6, as the farmers of Saskatchewan attempt to set a Guinness World Record for the most combines harvesting in a single field. A group in Ireland holds the current record of 208 combine harvesters working simultaneously on a single field. Manitoba farmers set the record in 2010 at
the Harvest For Kids event.
Derek Unrau, executive director of Harvest for Kids, and Maryland-based independent filmmaker, Conrad Weaver of ConjoStudios, LLC, agree that the focus on agriculture production and overall mission to help bring food sustainability to children, families and communities around the world align to create synergy for additional collaborative partnerships for both projects.
Weaver says the Great American Wheat Harvest's strategic partners, like Harvest For Kids, provide services or products related to the theme of the documentary film and have committed time and/or resources toward the publicity and success of the film. "As production progresses, our strategic partners will be represented in our marketing and promotional materials," he says. "So, we'll be including footage from the 2012 Harvest For Kids record-breaking event in the film."
In addition to announcing the partnership during the Harvest For Kids world record harvest celebration event, the day includes free activities for all ages. After the harvest, a celebration concert featuring Canadian Country Music Association's Best New Country Group Nominee High Valley will be held at the Forest Grove Church in Saskatoon.
Unrau say funds for Harvest For Kids Children's Programs and Micro Projects are raised through sponsorship, advertising, general donations and grain sales and run programs in conjunction with its parent organization, Children's Camps International, in India, Kenya, Cambodia, Belize, Fiji, and Cuba.
"We work in many areas where children grow up being told they will never amount to anything and are never given a chance at life," Unrau says. "Through the camping programs, we have seen lives of children and young people changed with the new sense of value they receive."
Production for the Great American Wheat Harvest continues in 2013, with a scheduled debut of Spring 2014. Visit the website at www.greatamericanwheatharvest.com to find out how you can help and make a financial contribution to the development and education of telling this vital
story.
CONTACT INFORMATION
For more information about sponsorship packages, media interviews, speaking appearances of the filmmaker and questions, contact Jody L. Lamp, GAWH National Executive Co-Coordinator, call (406) 698-9675 or by email at
jody@greatamericanwheatharvest.com.
About ConjoStudios, LLC
ConjoStudios, LLC is owned and operated by award-winning videographer and producer, Conrad Weaver. Conrad has provided video services for government agencies, media agencies, large and small companies, non-profits and individuals.
Resource Links
Website& Blog: http://www.conjostudios.com
Twitter: https://twitter.com/conjostudios
Facebook: https://www.facebook.com/Conjostudios
LinkedIn: http://www.linkedin.com/in/conjostudios
YouTube: http://www.youtube.com/user/conjostudios
HARVEST FOR KIDS
About Harvest For Kids
We are focused on creating sustainable community development programs that will bring hope to children in the developing world. Showing them that there is hope for a future.
Resource Links
Website & Blog: http://harvestforkids.com/
Twitter: https://twitter.com/harvestforkids
Facebook: https://www.facebook.com/HarvestForKids
Videos: http://harvestforkids.com/media/2010-harvest-video/