FOR IMMEDIATE RELEASE: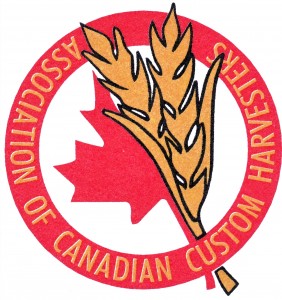 Great American Wheat Harvest Documentary Film Receives International Support and Sponsorship from the Association of Canadian Custom Harvesters Inc.
Frederick, MD – Jan. 15, 2013 – The Great American Wheat Harvest documentary film outreach just got bigger with the recent support and sponsorship of the Association of Canadian Custom Harvesters Inc., (ACCHI), says independent filmmaker, Conrad Weaver of ConjoStudios, LLC.
Weaver announces the new ACCHI sponsorship after being a keynote speaker at the association's recent annual convention in Saskatoon, SK, where harvesters and industry representatives from both the United States and Canada gathered to work towards improving the custom harvesting business.
"We now have support on both sides of the U.S./Canadian border in our effort to help better connect consumers to the North America wheat growers and customer harvesters who make their food supply a reality. Weaver says. "We thank ACCHI for recognizing the opportunity to collaborate on this international documentary film."
Formed in April 1983, ACCHI initially dealt with a specific and immediate immigration issue program to successfully guaranteed future access to the United States market through the Canada-U.S. Free Trade Act and NAFTA.
However, as the group celebrates its 30th anniversary, ACCHI president Shawn Gallagher of Vermillion, AB, says the organization quickly evolved to promote and improve communication and understanding with farmers, the public, equipment dealers, manufacturers and all levels of government.
"This project meets the objectives of our organization very well, therefore it was not a difficult decision for our members to agree to support it," Gallagher says. "The thought of 'telling your story or someone else will' truly resonated with me personally.
"On behalf of ACCHI, we look forward to working with Conrad Weaver as he documents the endeavors of everyone involved in supplying much of the world's wheat supply and thank him for sharing this with the public."
In addition, Weaver acknowledges the opportunity and potential to update the name of the Great American Wheat Harvest documentary film as more Canadian-based individuals, businesses and organizations come on board to financially back the film.
In 2012, Great American Wheat Harvest major sponsors and strategic partners included John Deere, MacDon Industries, U.S. Custom Harvesters Inc., Teresa Scanlan Miss America 2011 and Harvest For Kids. Upcoming 2013 events for the Great American Wheat Harvest include the Ag Connect Expo & Summit and U.S. Custom Harvesters Inc., Annual Convention, both in Kansas City, Jan. 29-31; and National Ag Day, March 18-19 in Washington D.C.
Visit the website at www.greatamericanwheatharvest.com to find out how you can help and make a financial contribution to the development and education of telling this vital story. For more information about sponsorship packages, media interviews, speaking appearances of the filmmaker and questions, contact Jody L. Lamp, GAWH National Executive Co-Coordinator, call (406) 698-9675 or by email at jody@greatamericanwheatharvest.com.