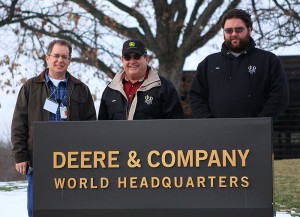 Production on the Great American Wheat Harvest documentary has begun! In January we spent a couple of days at John Deere Harvester Works interviewing staff and documenting Jim Deibert going through the Gold Key Tour and picking up his new combines.
In March we'll be in Oklahoma talking to and shooting interviews with scientists in the wheat breeding program at Oklahoma State University as well as a wheat farmer or two in the area. Then in April we'll be at the custom harvester's home bases filming interviews and harvest preparations as our crews get ready to head south for harvest.
We'll keep you posted as we continue to make progress on this project.