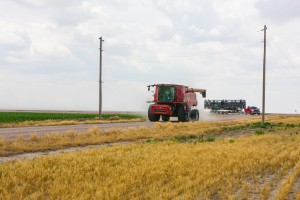 Come out and join us as the Great American Wheat Harvest documentary film crew heads north and back out on the wheat harvest with its U.S. Custom Harvester Inc., crews in Nebraska, South Dakota and Montana!
We don't want to miss an opportunity to visit with you.
Please see the schedule below for filmmaker Conrad Weaver of ConjoStudios, LLC:
July 23-24: Imperial and Scottsbluff, NE
July 25-27: Wall, SD and surrounding area
July 28-30: Billings, MT and surrounding area

In addition, we are taking pre-orders for the NEW Great American Wheat Harvest T-Shirts! Show your support and help share the story by ordering your 2013 Harvest Crew shirt (see attached pictures) at http://www.greatamericanwheatharvest.com/t-shirt-order-page Please expect to wait a couple of weeks to receive your shirt. We'll send them out as soon as we can. Thank you so much!
To schedule media interviews, speaking appearances or inquire about sponsorship opportunities/benefits contact me, Jody L. Lamp at (406) 698-9675 or by email at jody@greatamericanwheatharvest.com.