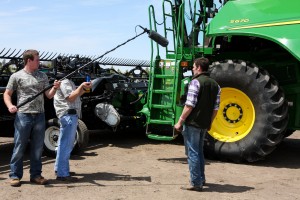 After a full day of shooting, we've wrapped up our day of interviews and B-Roll at Deibert Harvesting (JKD INC). in Colby, KS. Jim and his crew are busy getting ready for their harvest run which will begin about the middle of May. This year, his crew consists of guys from Australia, New Zealand, England, Ireland, and Indiana. We shot interviews with most of these guys as well as Jim, his crew leaders: John and Turk.
We also had the opportunity to tour and visit with a grain terminal that handles millions of bushels of wheat that gets shipped to the ports. We were able to watch trucks unloading wheat and even rode the lift to the top of the elevator. Great views from up there! On Monday we hope to see a train getting loaded at this terminal.
Our crew is tired but happy as we're wrapping up our first week of shooting harvest preparations. We'll take the weekend off, then join the US Custom Harvesters for their annual safety meeting on Monday. Then we'll head over to Omaha, NE to wrap up this trip with the Zeorian crew.
— in Colby, KS.