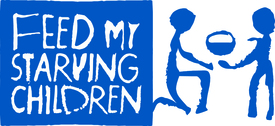 ConjoStudios, LLC., President, Conrad Weaver announces his plans to support the efforts of FEED MY STARVING CHILDREN through the Great American Wheat Harvest documentary film.
FEED MY STARVING CHILDREN, a Christian nonprofit based in Coon Rapids, MN, and founded in 1987,  provides nutritionally complete meals for starving, malnourished and hungry people in nearly 70 countries. The prepackaged dry meals cost less than a quarter to make and are 100 percent donor funded and assembled by volunteers in the United States.
Weaver says the mission of FEED MY STARVING CHILDREN to eliminate starvation in children throughout the world aligns with the related theme of the Great American Wheat Harvest's efforts to raise greater awareness to the production, harvesting and distribution of a necessary, sustainable food supply, like wheat.
Mark Crea, executive director/CEO of FEED MY STARVING CHILDREN, says the nonprofit partners with other faith-based and humanitarian-minded organizations, like ConjoStudios, to maximize its ability to feed God's children. The group currently has concentrated relief efforts in the Philippines where one of the worst storms ever recorded — Typhoon Haiyan — struck the southeast Asian island last November.
"Because of our partners, we were immediately able to open and fill extra food-packing sessions and ship an additional 5.4 million emergency meals to the Filipinos," Crea says. "We will continue to pack meals for our Filipino brothers and sisters, as we keep our meal commitments to other countries, too."
FEED MY STARVING CHILDREN has received nine consecutive 4-star evaluations from Charity Navigator; putting them in the top 1 percent of charities in the United States that they review; is recognized by Intelligent PhilanthropyTM for its Commitment To Transparency; and has met the all 25 Accountability Standards of the Charities Review Council.
_________________________________________________________________________________________
About ConjoStudios, LLC
ConjoStudios, LLC is owned and operated by award-winning videographer and producer,
Conrad Weaver. Conrad has provided video services for government agencies, media
agencies, large and small companies, non-profits and individuals.
Resource Links
Website& Blog: http://www.conjostudios.com
Twitter: https://twitter.com/conjostudios
Facebook: https://www.facebook.com/Conjostudios
LinkedIn: http://www.linkedin.com/in/conjostudios
SAVE THE DATE: The Great American Wheat Harvest Documentary Film National Premiere Screening kicks off National Ag Day on March 25, 2014, in Washington, D.C., at the Smithsonian's National Museum of the American Indian; from 8:30-11:30 a.m. Seats are limited and you must RSVP for this event at: https://gawhpremiere.eventbrite.com
For more information, visit the www.GreatAmericanWheatHarvest.com website. To inquire about sponsorship opportunities/benefits or more information about the national premiere in Washington, D.C., contact me, Jody L. Lamp at 406-698-9675 or by email at jody@GreatAmericanWheatHarvest.com