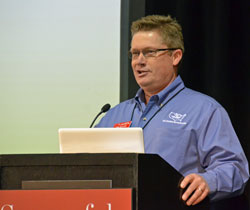 Let's visit with a couple of U.S. Custom Harvesters leaders, Kent Braathen and Tracy Zeorian. I met them during AG CONNECT Expo earlier this year when a big announcement was made about the film documentary "The Great American Wheat Harvest." The film is in production now with a hopeful release date of Ag Day in 2014. Tracy says that when she was first approached by film producer Conrad Weaver she was a little unsure where this would go. But she has learned that "He's showing the story that we live and the heart of what we do."
Kent who is the new President of U.S. Custom Harvesters says they're very excited to be on board with this project since it will showcase what they are all about. He grew up in the business where like many custom harvesters, it's a family affair. The film will help the public and folks in Washington, DC and local politics better understand the importance of their industry to the public. He encourages other organizations and companies to come on board and support the film.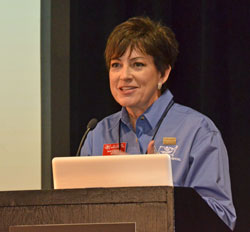 Tracy has written a great blog post for Ag Day in which she details the evolution of the custom harvest industry. Here's an excerpt.

The reputation of the custom harvest businesses has changed since the early days. When the industry was in its early years, crews were made up of only men. There were no trailer houses. The custom harvester camps had none of the luxuries of today. Men would sleep in partially filled grain trucks or under grain trucks, tents or barns. The men relied on farmers' wives for food and often bathed in rivers and lakes.
Custom harvest businesses have evolved in the past 69 years. Combines are larger and headers are longer. The modern-day custom harvest crew is more than likely a family-owned business. They have modern RV's with all the luxuries of home, including a shower AND washer/dryer. Some crews opt to stay in motels while on the road and eat in restaurants. Children have grown up helping, either at the trailer house or in the field. If they're really lucky, they've experienced both. We still chase that ripening wheat from Texas to the Canadian border! Fall crops, such as corn, soybeans and sunflowers, keep some of these crews on the road for up to six months.

You can listen to my interview with Brent and Tracy here:
Interview with Kent Braathen and Tracy Zeorian
The GREAT AMERICAN WHEAT HARVEST is a documentary film that will tell the story of hard-working custom harvesters who travel from the heart of Texas to the Canadian border harvesting the wheat that feeds our Great Country and the World. AgWired is a Silver Sponsor of the project.