Great American Wheat Harvest Documentary Film Enters Post-Production; Receives More State Support from Nebraska Wheat Board
Emmitsburg, MD – Nov. 12, 2013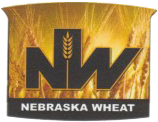 With wheat harvest filming complete and post-production in progress, the Great American Wheat Harvest documentary film, independent filmmaker, Conrad Weaver of ConjoStudios, LLC announces the Nebraska Wheat Board (NWB) recently approved and appropriated funding to become one of the film's new executive sponsors.
Weaver says NWB gave its endorsement early in the film project when in October 2012 NWB chairman, Von Johnson, and the Nebraska Wheat Growers Association (NWGA), president, Dayton Christensen, provided the Great American Wheat Harvest with a letter of support to endorse the film's mission of connecting consumers with wheat farmers and harvesters.
As we've traveled throughout Nebraska this past year, we've come to know and appreciate how this state's wheat board supports its producers and the whole network of people it takes to grow, produce and harvest their crop, Weaver says. "This is an organization that understands the educational impact this film will have by bringing conversation about food from the field to the table."
In 2009, NWGA created the Mobile Baking Lab as a tool to educate consumers on where their food comes from and connect producers and consumers through fresh-baked wheat foods like cinnamon rolls, bread, cookies and pasta. The Mobile Baking Lab, along with its NWGA volunteers, travels across the United States to events to provide demonstrations of wheat nutrition, education and food choices.
"The cities of Lincoln and Scottsbluff are slated as the two-film premier sites for Nebraska during our state wheat-belt tour, so we look forward to working with NWGA and having the Mobile Baking Lab at these events," Weaver says. "We welcome more state wheat commissions, businesses, organizations and individuals to collaborate with us in their cities and state's film events."
Von Johnson, chairman of the Nebraska Wheat Board, says the board supports the film as it strengthens the organization's mission of promoting Nebraska wheat farmers and providing an interactive tool to help explain wheat's role in the world's agricultural food production and diet. "We believe the Great American Wheat Harvest documentary film shows an overall perspective of American agriculture and will highlight how our state's wheat farmers take an active role in growing the world's wheat food supply," Johnson says. "We hope viewers will
come away with a better understanding of our modern farming practices."
The Nebraska Wheat Board now joins Oklahoma Wheat Commission and the Montana Wheat and Barley Committee as state wheat sponsors. Other Great American Wheat Harvest major sponsors include: John Deere; U.S. Custom Harvesters Inc.; C& B Operations; MacDon Industries; Case IH; Association of Canadian Custom Harvesters;
TMCO/National Manufacturing; and media partner, AgWired, an online media service at http://agwired.com.