Conrad Weaver says thanks to those who've helped make the Great American Wheat Harvest a success!
The Great American Wheat Harvest is Nominated for a Regional EMMY® Award
We're excited to announce that the Great American Wheat Harvest film has been nominated for an EMMY® Award!  On Thursday, August 7, the Mid-America Chapter of National Academy of Television Arts and Sciences revealed the nominees for the 2015 Regional EMMY® Awards, and the Great American Wheat Harvest was nominated in the documentary-cultural category.
The film aired on WQPT (Quad Citiies PBS) this past February, and consequently qualified to be submitted for the nomination. As one of nineteen regional chapters of the National Academy of Television Arts and Sciences, the Mid-America Chapter is the standard-bearer for excellence in the television broadcasting industry and the gatekeepers of the prestigious regional EMMY® Awards. Mid-America represents the most experienced and talented television professionals from all disciplines of the industry in the region.
It's really an honor be considered for an EMMY® Award; it's the culmination of a lot of hard work and persistence in getting our film to an audience who needs to see it. This nomination is also a tribute to the farmers and harvesters who work hard, year in and year out, to bring food to our tables.
The 39th Mid-America EMMY® Gala will be held on Saturday, October 3, 2015 at the Marriott St. Louis Grand Hotel in St. Louis, Missouri. We hope to come home with the golden statue.
We're looking for more opportunities to air the film. If you're a television station programming director, and would like to feature The Great American Wheat Harvest on your station, please give us a call. You can reach Conrad Weaver at 301-606-7794, or email at Conrad@conjostudios.com, or on Twitter: @conjostudios

We love to hear from our fans and people who enjoy the film. Here's a comment we received from one of the young men featured in the film:
"I just got to watch my DVD last night after we got in from harvesting corn ourselves. I think it was very important to get a message out about where your food comes from and the struggle and hard work that it takes to achieve this. I am very excited and proud to have been a part of the harvest crew and help harvest the crops that feed the world. I thank you for what you did, GREAT job!"
– Tyler Jones
Long before I was even a twinkle in my Dad's eye he worked as a custom wheat harvester, traveling around the Midwest, parts of the south and even up into the Pacific Northwest harvesting wheat. I always found his stories about those times interesting and entertaining. I was amazed that my Dad had done this. "The Great American Wheat Harvest" is a documentary film that tells the story of five hard working families and crews who travel the country harvesting that golden grain that as the film's producers say, "feeds our Great Country and the World". Produced by award winning director and producer Conrad Weaver, the film was four years in the making and is now touring the nation since its premier at the National Museum of the American Indian in D.C. on National Ag Day this past spring. Weaver says that the response he has received from the thousands of people who have viewed the film has been "overwhelmingly positive". For those unable to attend a film screening a coffee table book is available which contains beautiful photos of the numerous harvest scenes he and his crew shot while making the documentary. For more information on the film visit greatamericanwheatharvest.com.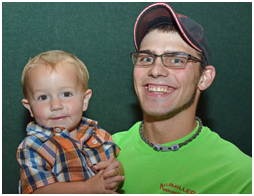 We talked with a couple of the people at the showing last month of "The Great American Wheat Harvest" in Bismark, North Dakota and everyone seemed to give it two thumbs up.
"I think it will open people's eyes if they see it as to how the whole industry works," said Zack, a custom harvester from Girard, Kansas who was at the showing with his family. "I'll let everybody know about it."
A farming couple from North Dakota was excited to see people they knew on the big screen. "It was just great to see the whole run of the harvest…even though we're farmers ourselves," said Bonnie. "American people need to realize what wheat harvest entails and what it does for our country," agreed her husband Lyle.
"Now everybody can understand what we do," says Kim from Bowdon, ND, who works with a custom harvest family.
Listen:

Interviews with Great American Wheat Harvest viewers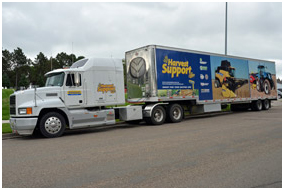 Rick Solberg, a cash crop product specialist with New Holland based in Bismark, says there's a lot of heavy machinery in the movie of all different colors. "There's certainly a lot of pride working with New Holland and seeing that product in the field and people who own it," said Solberg. "It's real life. There's a big cross section of different manufacturers and equipment in the harvest."
New Holland is one of the sponsors of the documentary and so is John Deere, Case IH, MacDon, and Claas. Wheat harvesting is color blind!

Interview with Rick Solberg, New Holland
July 11, 2014
Sumner Newscow report — There are still two showings of the Great American Wheat Harvest documentary film being shown at the Wellington Regent Theater as part of the Wheat Capital of the World's 114th annual celebration of the Kansas Wheat Festival. The second and third showing is Saturday and Sunday at 2 p.m.
Independent filmmaker Conrad Weaver of ConjoStudios, LLC, from Emmitsburg, Md., will be available from 1 to 2 p.m., before the Sunday afternoon screening for a meet and greet with movie patrons and media interviews.
"We're excited to be attending and to be a part of this annual event that honors the Kansas wheat farmers and harvesters," Weaver says. "We spent a lot of our production hours here in Kansas and our fans are sure to recognize some familiar people and places."
At the "Meet and Greet", Weaver will be available to give updates and interviews about the film's progress since it's national premiere screening on National Ag Day on March 25 in Washington, D.C., at the Smithsonian's National Museum of the American Indian. He reminds patrons and supporters that a portion of the proceeds for this film will go to help support Feed My Starving Children, a Christian 501(c)(3) non-profit organization.
Published from the High Plains Journal
Wheat shines in the spotlight
By Jennifer M. Latzke
Members of the Oklahoma Wheat Commission, Oklahoma Wheat Growers Association, Oklahoma Genetics, Inc., and Oklahoma Wheat Research Foundation presented a $1.1 million check to the OSU wheat breeding program before the special screening of the "Great American Wheat Harvest" movie April 16. Much of the donation came from royalties earned by OSU-bred wheat varieties that were marketed through OGI. Gary Clark, OSU vice president, accepted the check. (Journal photo by Kylene Scott.)
It's rare that farmers and custom harvesters get the red carpet treatment.
But at the recent screening of the documentary film "Great American Wheat Harvest," wheat farmers and custom cutters finally got their due recognition.
An audience of about 200 gathered at the Oklahoma State University Student Union April 16 to view the film. The documentary follows three custom harvester crews on the harvest trail from Texas to Canada, including All Aboard Wheat Harvest correspondents Taylor Zeorian and Emma Misener.
The Misener family, of Misener Family Harvesters, Elk City, Okla., was on hand for the event. Dan Misener said that he and his family were happy to be a part of the movie because it serves as a great tool to promote agriculture and to show just what wheat harvest crews do for American consumers every year.
"This is a very real portrayal of what we do," Misener said. Filming happened to fall in the midst of the worst drought covering much of the Great Plains, which presented a very real risk to custom cutters who have no insurance to fall back on when fields are unharvestable.
Director and Producer Conrad Weaver attended the screening and said it was a privilege to spend three years and more than 100,000 miles traveling up and down the trail to film the harvest crews and share their story with the public. Weaver said the idea to do this film came from his wife, who encouraged him to approach the topic.
"The general public needs to understand what goes on in agriculture, and what really goes on," Weaver said. "This is real reality, not manufactured. It was filmed as it happened." He found enough drama and inspiration naturally in telling the story of wheat harvesters who manage rising equipment and labor costs, Mother Nature's moods, and traveling away from home for months on end.
The film has an Oklahoma connection. It features OSU wheat breeder Brett Carver, talking about the public wheat breeding at OSU and other land-grant universities. It also showed former Oklahoma Wheat Growers President Jimmy Musick, Sentinel, Okla., and Oklahoma Wheat Commission Executive Director Mike Schulte as they toured wheat fields in the state in the spring searching for freeze damage.
Much like harvest is a collaborative effort, so too was funding for the film, which came from a variety of industry and individual sponsors. Sponsors came from all segments of the industry, from state wheat commissions to equipment dealers and custom cutters themselves.
Just prior to the beginning of the film, the OWC, OWGA, Oklahoma Genetics, Inc., and the Oklahoma Wheat Research Foundation presented a $1.1 million check to the wheat breeding program at OSU, much of which came from royalties earned by wheat varieties bred by OSU and marketed through OGI. Dignitaries took to the stage to take a picture with Gary Clark, vice president of OSU, as he was presented the check.
The "Great American Wheat Harvest" film is now available to theaters for exhibition. Weaver said he's working on getting it into as many theaters as possible to share the message of agriculture. Farmers can help spread the word by talking to their local independent theaters and asking them to bring the film to their community. It's also available for pre-order on DVD and Blu-Ray via the film's website, www.greatamericanwheatharvest.com.
The process of telling custom harvesters' stories through this film was a privilege, Weaver said.
"Thank you," Weaver said in his introduction of the film. "Thank you to the wheat farmers and those individuals who help them, from those of us who eat."
Jennifer M. Latzke can be reached by phone at 620-227-1807 or by email at jlatzke@hpj.com.
Date: 4/28/2014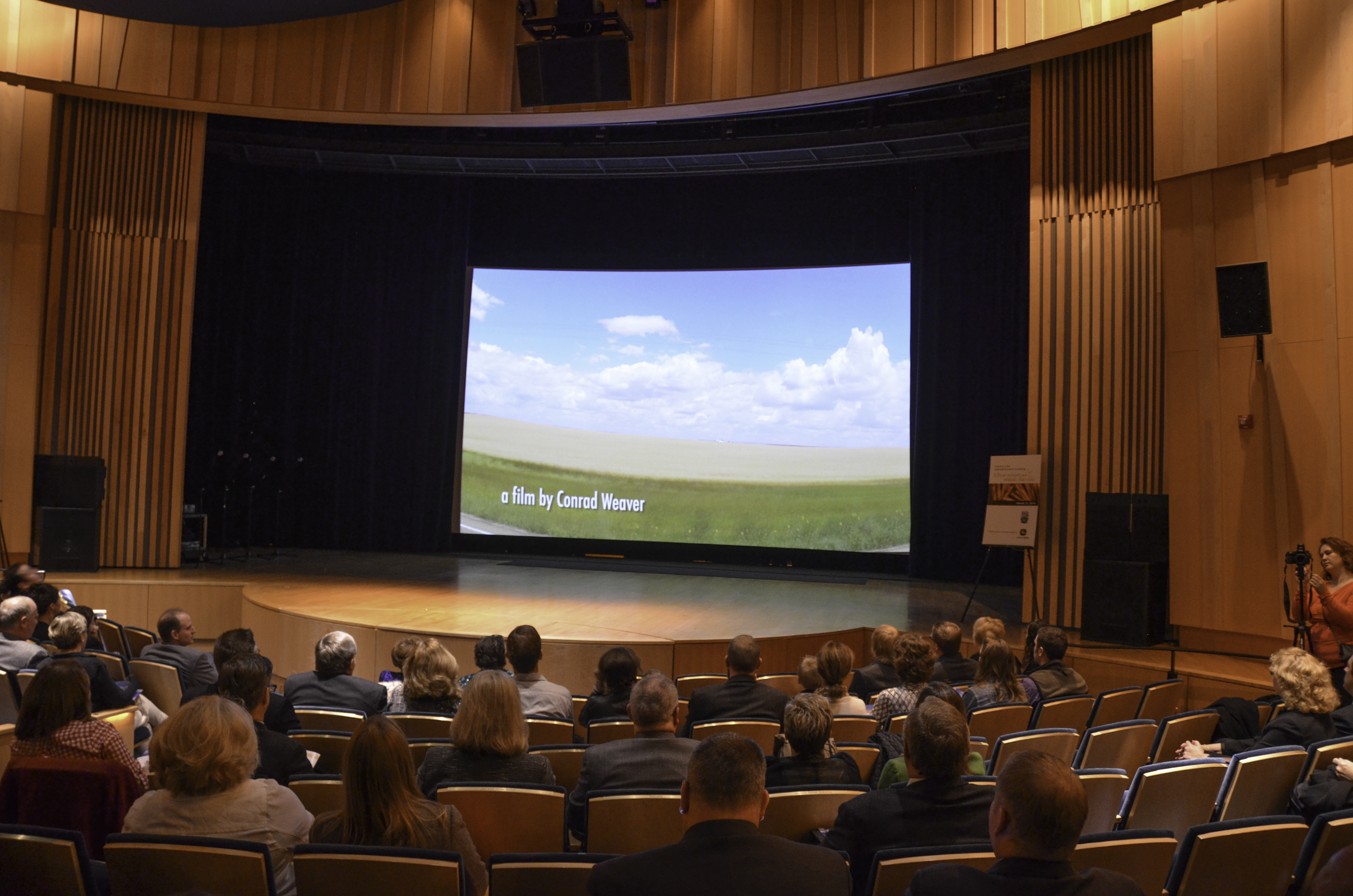 The debut of The Great American Wheat Harvest was seen by many during Ag Day activities this year in Washington D.C. Chuck took time to chat with Barry Nelson, John Deere, who was a huge sponsor of the production. He also spoke with the director, Conrad Weaver. Both couldn't have been more excited with how the film turned out and can't wait to get it out for the whole world to see.
"It exceeded my expectations." Barry said, "After being able to see the final cut of the film, seeing the reaction from the crowd, but also how Conrad Weaver the producer was able to tell the story of these different custom cutters going on the harvester trail and how difficult it is. Boy, I think it's a great story and now we are excited to see where the film is going to be debuted and shown across the US."
Barry believes this film sets itself apart from other documentaries because it really tells the story of the families involved in this and how hard it is to predict the weather, manage the equipment and make sure they are in the right place at the right time.
You can listen to Chuck's complete interview with Barry here:
Interview with Barry Nelson
Conrad said, "It's kind of like giving birth. You have all the toil for years and now you have birthed this thing called a movie and it's exciting, it's thrilling and it's a relief to be done. But now the real work begins of getting the message out to the people."
For the next two years Conrad said he will be busy making sure the world sees this production. They are also still looking for sponsorships to help fund marketing dollars to help get this in theaters everywhere. In the future Conrad is toying with some other project ideas all relating to agriculture. We should expect to continue to see and hear his name mentioned as a true advocate for the agricultural community.
You can listen to Chuck's complete interview with Conrad here:
Interview with Conrad Weaver
Original Content: http://agwired.com/2014/04/16/wheat-harvest-film-debuted-at-ag-day-festivities/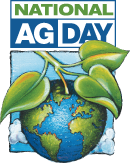 Wow!!  Can you believe we are less than 30 days away from our National Premiere Screening of the Great American Wheat Harvest documentary film!?  We're excited that the screening of this important film is a part of National Ag Day in our Nation's Capital and are thrilled to be able to show it at the Smithsonian's National Museum of the American Indian.
An important event like National Ag Day brings many people, organizations, companies, and government agencies who are all concerned with producing food for our growing world.  We are looking forward to showcasing this film to these groups of people in Washington, DC.
In order to make this a successful event, and to include as many people as possible, we are looking for companies, organizations, and individuals who would consider becoming a "Friends of the Film" Hospitality Sponsor at the National Premiere event.   A  "Friends of the Film" hospitality sponsorship will allow your organization or company to be recognized at the event and be among the representatives of other vested businesses, organizations and individual partners who help bring food from the field to the table and ultimately, to the consumer.
Your Hospitality Premiere Screening Sponsorship helps cover venue and reception expenses and commemorates the launching of this national treasure film that will be archived for generations to see and learn about the entire network of those involved in food production. We invite you to be a part of agriculture history!
Deadline: Hospitality "Friends of the Film" Sponsorship forms must be received by Monday, March 10.
For your sponsorship consideration, please see the following benefits:
Hospitality "Friends of the Film" Sponsorship ($1,000)
– Recognition in the Commemorative Program (Logo included) as a Hospitality Partner Sponsor  of the National Premiere.
– Recognition at the "Meet and Greet Breakfast Reception"
– Receive an autographed copy of the film upon release of the DVD/BLU-RAY.
Fan of the film ($500)
– Listed in the commemorative program
– Recognition at the Meet and Greet Breakfast Reception
– Receive an autographed copy of the film upon release of the DVD/BLU-RAY.
Supporter ($250)
– Listed in the commemorative program
– Receive an autographed copy of the film upon release of the DVD/BLU-RAY.

Individual ($100)
– Listed in the commemorative program
– Receive an autographed copy of the film upon release of the DVD/BLU-RAY.
++++++++++++++++++++++++++++++++++++++++++++++++++++++
To make a payment online using your credit card, make your selection below, then click the "Buy Now" button.
If you would rather send a check, please make your check payable to:
ConjoStudios, LLC
343 Mountaineers Way
Emmitsburg, MD 21727
Thank you for your consideration. For information about additional sponsorship opportunities, please contact: National Executive Coordinators
Melody Dobson & Jody Lamp
406-690-5503 or 406-698-9675
Email contacts:
Melody@GreatAmericanWheatHarvest.com, Jody@GreatAmericanWheatHarvest.com
With Highest Regards,
Jody & Team GAWH