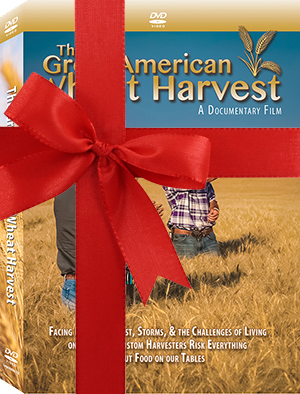 A DVD or Blu-ray of the Great American Wheat Harvest documentary makes a great Christmas gift!
Order yours today and we'll ship it in time for Christmas!
Upcoming Events and Screenings
Lawrence, KS: December 4, 3PM – The Dole Institute
Screening & Q & A with film maker, CONRAD WEAVER, and custom harvesters, Jim and DeAnn Deibert
Thursday, Dec. 4, 2014  3 p.m. Dole Institute
Telling the story of families who travel from Texas to Canada custom harvesting wheat for our country and the world, award-winning filmmaker, Conrad Weaver, documents the inspiring heritage now threatened to be lost. Many Americans take for granted the way our food supply comes to us daily. Custom harvesters, Jim and DeAnn Deibert will share their perspectives. These harvesting families take risks and battle technological, economic and environmental challenge to feed millions. This event includes a film screening, Q & A session and DVD sale.